About us
---
BrandEPS is the database of brand logos and icons. Brand logos and icons can download in vector EPS, SVG, JPG and PNG file formats for free! We help designers, developers and market researchers to download high quality brand logos and icons without loss of time, to find new ideas and inspiration for their future work.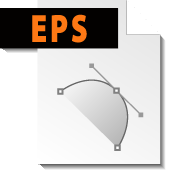 Why EPS
EPS (Encapsulated PostScript) is a vector file format. All professionally designed logos should be created in this format. It is the standard interchange format in the print industry. Because it is vector it can easily be resized to any size without loss of quality. They're incredibly small, scalable and editable. If you don't have this file type you need to get it to manipulate your logo into the correct size and quality on the different projects.
Modify and Saving
To modify EPS file you need vector editor software such as Adobe Illustrator, or CorelDRAW. There are also a number of programs will save or convert vector art to EPS format, including: Adobe Acrobat, Adobe InDesign, Adobe Photoshop (later versions), Affinity Designer, FlexiSign, Ghostscript, Inkscape, InPage, LibreOffice Draw, Macromedia Freehand, Maple, OmniGraffle, PhotoImpact X3, PaintShop Pro X7, QuarkXPress.